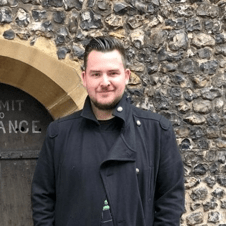 Alex Bain
Senior CRM Marketing Exec – Marketing
Hey there, I'm Alex, your go-to person for all things CRM marketing.
I'm proud to be a part of the Oddbox family, where we don't just talk business; we're on a mission. Oddbox isn't your typical workplace; it's a place where we strive to make a real difference. Our focus? Fighting food waste and making the world a better place.
So, what's the scoop on working at Oddbox? Well, it's not just a job; it's an opportunity to be part of something bigger. Oddbox's commitment to reducing food waste and creating a more sustainable future resonates deeply with me. Every day, I get to apply my marketing expertise to a cause I wholeheartedly believe in. What truly sets Oddbox apart is our culture of innovation, where new, creative ideas are not just welcomed, but actively encouraged.

By day, I'm a Senior CRM Marketing Exec, but by heart, I'm a passionate aficionado of music, photography, and the magic of movies. Creative pursuits? They're my jam!