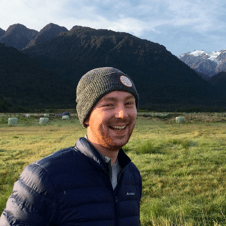 Henry Wilson
Senior Production Coordinator – Operations
Hi there, Henry here. I joined Oddbox as a Production Coordinator in March 2020 and am now a senior member of the production team. My days are spent making sure you get the right produce packed in your boxes and delivered to your door each week. My nights are spent planning and cooking my own meals with the wonderfully odd fruit and veg that Oddbox sources.
With years of experience working in food and hospitality, most recently at a high-end department store where wastage was a target, it is refreshing to be part of a vibrant community of customers and colleagues who are passionate about doing better with food. It is also exciting to be part of a community who always have a new recipe to reinvent cabbage - if you haven't tried okonomiyaki yet it will change your life.
The Production team is a close-knit group of individuals who are involved in all things operational at Oddbox. Since joining I've worked on the rollout of a groundbreaking new operations system and have supported the expansion of our delivery service to new regions across the country - if we don't currently deliver to your postcode then just watch this space!